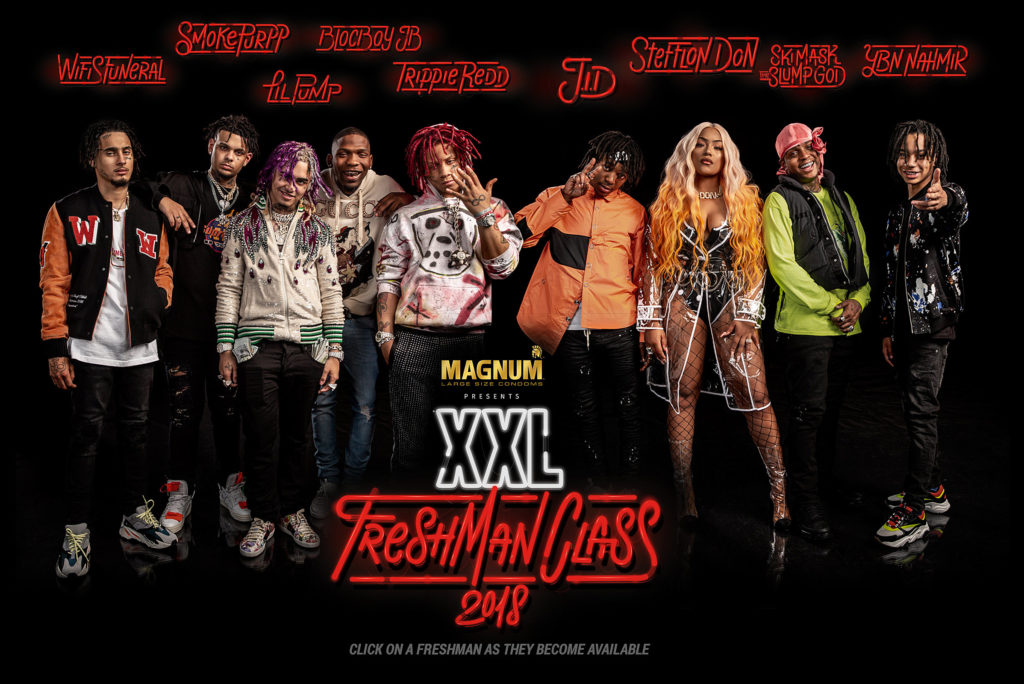 XXL put together a showcase to give fans a chance to see the highly anticipated XXL Freshman 2018 perform live in New York City.
The list is chosen every year and fans vote for who they want to see on the list. This year's winners were Wifisfuneral, Smokepurpp, Bloc Boy JB, J.I.D, Stefflon Don, Ski Mask the Slump God, Lil Pump, Trippie Redd, and YBN Nahmir.
The three hour showcase was hosted by Dj Self and sponsored by Magnum. All 3 floors of Terminal 5 were packed out with standing room only and a very lit, energetic mosh pit right in front of the stage.
Opening the show was London's very own Stefflon Don. As the only female rapper to make this year's freshman list, Stefflon Don held it down for the women performing her hit single "Hurtin' Me" featuring French Montana. It's no surprise she told XXL she's influenced by Lil Kim. Her raw talent and sex appeal definitely add her to the ranking of today's top female hip-hop talent.
Instagram: @stefflondon || Twitter: @stefflondon
Next up was Atlantic Records artist YBN Nahmir. The 18-year-old rapper got the crowd even more hype when he was joined on stage by his infamous crew YBN Almighty Jay and Cordae. The three took turns switching on stage, and then all took the stage for a YBN finale, which had everyone going crazy. The crew performed hit songs like "No Hook" and "Rubbin' off the paint."
Instagram: @ybnnahmir || Twitter: @ybnnahmir
Keeping that same energy was J.I.D. Signed to Dreamville, J.I.D. took the mic and started freestyling on the spot, reminding us exactly why he's signed to J. Cole's label. He performed his hit songs like "EdEddnEddy" and "Never" from his one year old debut album "The Never Story" which made fans sing along with the Atlanta rapper.
Instagram: @jidsv || Twitter: @JIDsv
Following J.I.D. was Alamo Record's artist Wifisfuneral who showed off his creative lyric skills with freestyle. His energy on stage proved why he's a freshman on this year's list, not that anyone needed a reminder. The Bronx native wasn't far from home & his fans made sure he knew. They chimed in right on cue when the beat dropped for Wifi's 2016 hit single "Aw shit."
Instagram: @wifisfuneral || Twitter: @wifisfuneral
As if the rhymes weren't enough, the dance moves came out when Blocboy JB hit the stage. He pulled three fans on stage to join him in dancing to his hot songs "Shoot," "Rover," and "Look Alive" which features Drake. The talented artist even left the stage to join fans in the crowd, still dancing the whole time.
Instagram: @Blocboy_JB || Twitter: @Blocboy_JB
Last but definitely not least was Florida rapper Smoke Purpp. Closing out the night, Purpp performed his hit songs like "Bless Yo trap" and "Audi." He even performed Lil Pump's "Boss," who also made the list but didn't perform that night. Purpp paid tribute to XXX Tentacion by putting an X in the sky while playing his music. He wasn't the only one who honored the rapper who was killed last month. Dj Self asked fans to take a moment of silent for XXX.
Instagram: @Smokepurpp || Twitter: @Smokepurpp
While each artist's performance had fans lit the whole show, they were still disappointed that Ski Mask, Lil Pump, and Trippie Redd didn't perform. People were booing when they realized Purpp was the last act of the night. Tickets said most artists were expected to perform, but there was a chance they wouldn't all be in attendance.
Overall the show lived up to the hype and gave fans a chance to see these up and coming artists live in action. The next XXL Freshman showcase will be in Los Angeles, California.