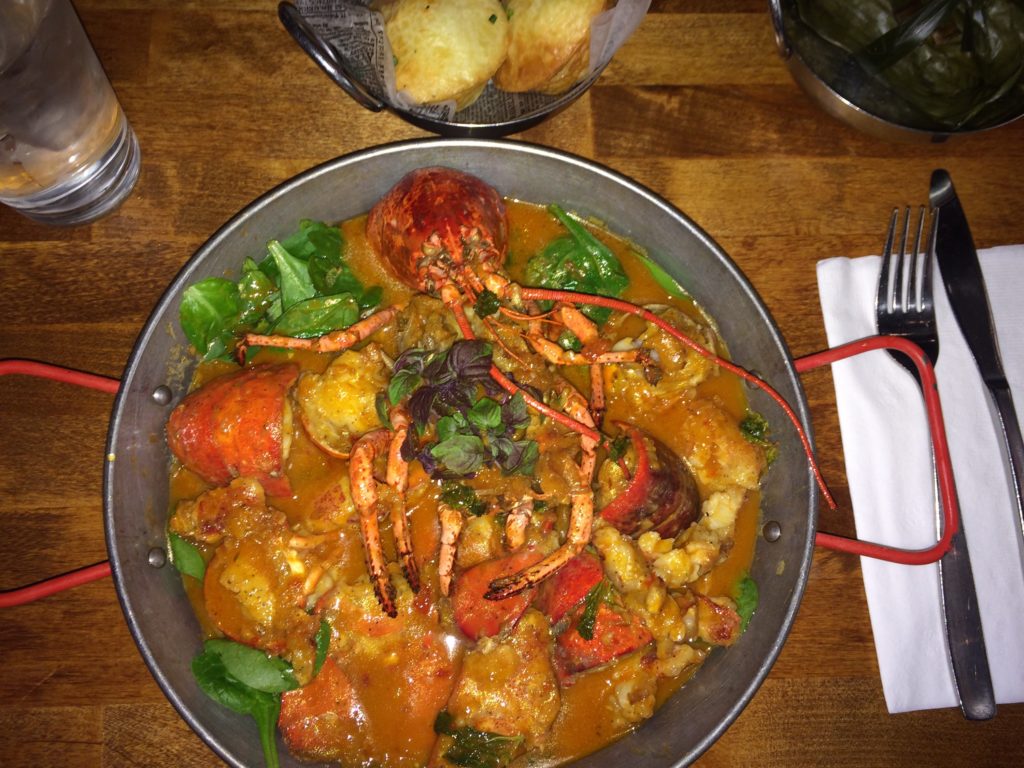 I was talking with a friend recently and we were discussing must try restaurants in NY now. Streets BK came up I said I have never heard of it ( quickly googles the restaurant ) I said it would be a great idea for a blog and we are setting up a day. Two weeks later finally approaches ( due to conflicting schedules) I decided to start with this amazing appetizer. It was an excellent choice if I do say so myself. The garlic and chillies had tantalizing flavor and medium in the spicy department. The chilli sauce had an amazing kick of flavor and a bit of spice.The perfect combo. One perfectly executing the other, while intertwining and complimenting each other simultaneously. Delicious. I am sweatin it lol.
As far as the decor it is simple yet inviting. Perfect for a girls night or a date night. They offer a coat check at has plenty of space at the bar and seating along the side so even if it is packed you can wait and drink without worrying about standing in heels with is perfect of us women. I highly recommend this restaurant I have to give it 4 stars only because of the simple decor. The service was impeccable both times I visited.
DA NANG/HONG KONG PRAWNS – Head on prawns two ways: sautéed tomatoes, garlic and chilies / herb oil, shallots, fresh chili sauce
SINGAPORE CHILLI LOBSTER – Wok fried whole main lobster, pea shoots, pão de queijo
A must have ! My entire totally blow me away by this dish i expected it to be good but once you taste it you are utterly speechless
JASMINE COCONUT BROWN RICE – wrapped in banana leaf delicious.
STREETS PAIN KILLER – Rum, Sorrel, Pineapple Juice, and sprinkled with I believe to be oatmeal (I hope my taste buds do not fail me lol ) this drink is amazing I do not even want to try to order another drink, it seems like a very popular drink. I ordered 3 lol .

The delicious entrée in front of me is the FISH IN BANANA LEAF – Steamed market fresh fish, mashed spinach plantains, pineapple & ginger purée, yellow, red & green bell peppers. So far I have been to Streets twice and I ordered this meal both times. I already have my next entrée in mind for my next visit.
PÃO DE QUEIJO – Brazilian Cheese Bread I really love this bread truly amazing,
PERI PERI WINGS – Grilled chicken wings, South African chilies, house-made Peri Peri glaze. A great alternative to jerk chicken similar in taste not spicy but not hot and a dash of sweetness subtle.
Executive Chef – Ronald Stevinson
Consulting Chef – Roble´ Ali
Enjoy
Ciao Bellas,
Pana