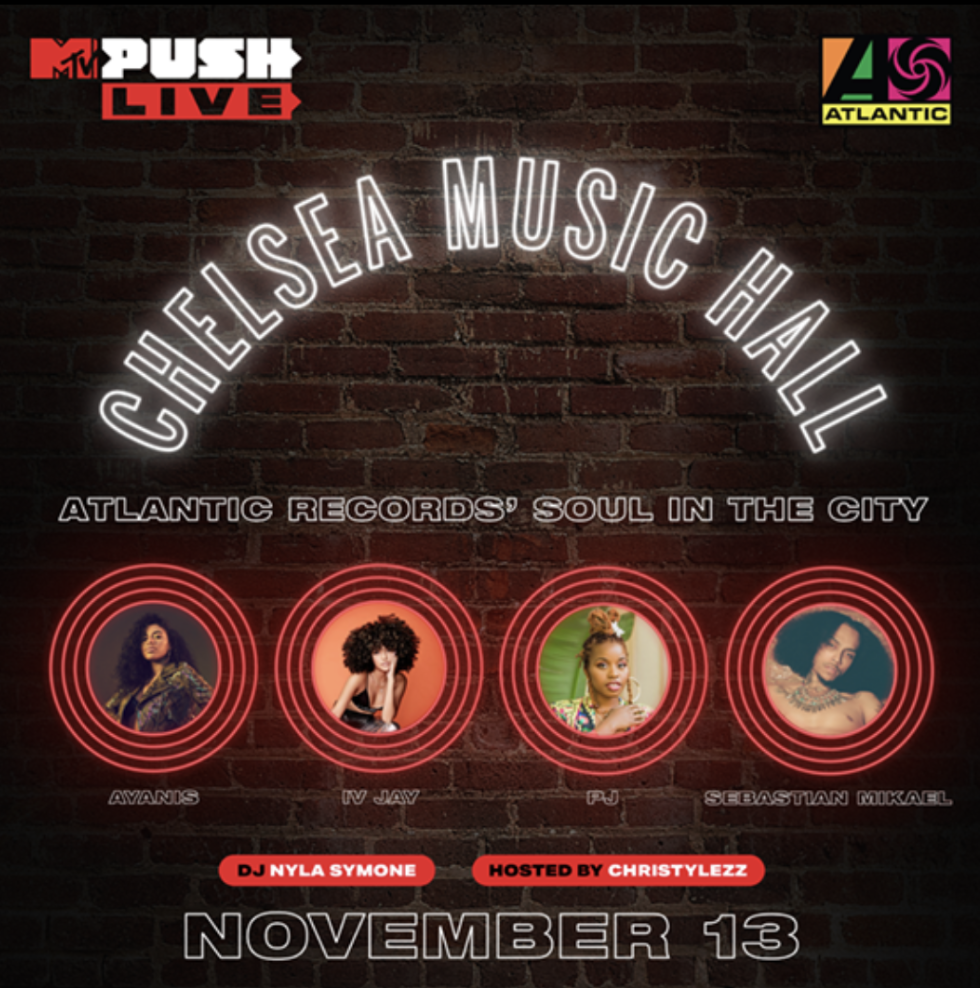 On Wednesday, November 13th, Atlantic Records in collaboration with MTV hosted a concert at Chelsea Music Hall featuring new artists that are making waves in the sea of their purpose. With performances by Ayanis, PJ, IV Jay, and Sebastian Mikael, these artists showcased unique and vibrant sounds throughout the night. Throughout the night, DJ Nyla Simone curated the sound of the night with a range of R&B and Hip-Hop hits.

This night brought nothing but vibes. From Ayanis to IV Jay, we really got a glimpse into the new wave of R&B. Love is a constant cycle that changes at different phases of our lives which is why we are excited about the new vibes that these artists will be bringing to this genre in 2020. Ayanis's video for her single 'One Night' featuring Wiz Khalifa has over two million views on youtube and embodies the style of old 90's R&B with the new school of R&B melodies. Throughout the night, the vibes didn't stop as IV Jay rolled performed a new song that is going to be on her EP dropping at the top of the year.

While drinks were flowing and people were dancing, the NC native PJ swayed the audience with her single 'One Missed Call' that embodies the soul of Stevie Wonder's 'All I Do' and R&B melody. Her raw sound and funky vocals embodied the free-spirited essence of neo-soul. Her energy was organically rich and full of Black Girl Magic vibes. Her tribute performance to Lauryn Hill is a reflection of how walking in your purpose can inspire others, as well as how we can see the impact of Black women's music on the next generation.

As if the vibes weren't enough, adding Sebastian Mikael's silky falsetto to the show out the show. He really captivated the listeners in the room and even received some. There was not a moment when people weren't swaying or dancing along to the live band. He even got a couple of shouts His multi-faceted artistry was a highlight of the evening showcasing his musicianship as a guitarist and a vocalist.

If one thing is for sure, this incoming wave of new R&B has a lot in store for this industry. Be sure to check out all their new singles and projects coming out soon.