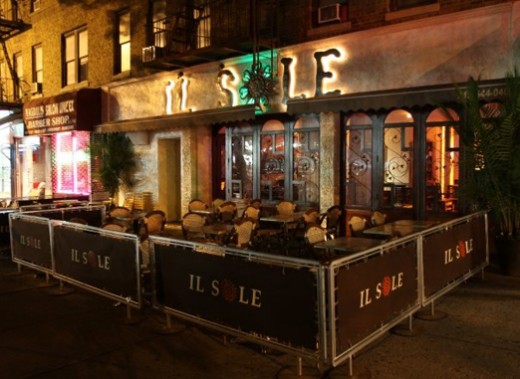 What a great night at Il Sole Restaurant! It's an intimate neighborhood restaurant located in Upper Manhattan that serves Italian food. First of all, the ambiance is everything! It's classy, artsy, chic and feels very welcoming. There was a musician playing the night I came to dine: a drummer to be exact. He was playing alongside tracks featuring many Hispanic artists including Marc Anthony. I love the idea of live music while dining; my only gripe was the volume. It's such a small restaurant that you'd end up yelling over the musicians the whole night. Although loud, it definitely helped to create a great vibe!
Now, the food!
We started with an appetizer of mussels in tomato sauce and herbs. It was a tasty dish; I loved the chunks of tomato in the stew portion too but it was a bit heavy on the salt. Course one and done.
Time for the main meal!
We stuck with tomato based dishes for night; the crab stuffed flounder and spinach to the left and penne pasta al forno with shrimp. The main course dishes were good not great. They weren't very exciting or especially flavorful but the presentation was quite nice. I immediately asked for Tobasco sauce upon the first bite (which is my secret weapon) to help season the dish. I love the taste of tobacco sauce so I knew I'd at least have some exciting flavor. The flounder according to Pana was tasty but not exciting. Overall the main dishes were kind of disappointing but you know what wasn't?
The drinks!
Here is the house mojito above. We each got two rounds because it was so amazing! It's a passionfruit and strawberry mojito with gin instead of rum. Our server for the night was amazing and especially accommodating with the drinks! She made sure not to under or over-pour the liquor. If you're looking for a place that has a great ambiance and great drinks, I definitely recommend Il Sole! The food wasn't amazing but maybe we'll have to try something different next time. All in all, it was a great La Bella night out!
Leave a Reply
Your email address will not be published.