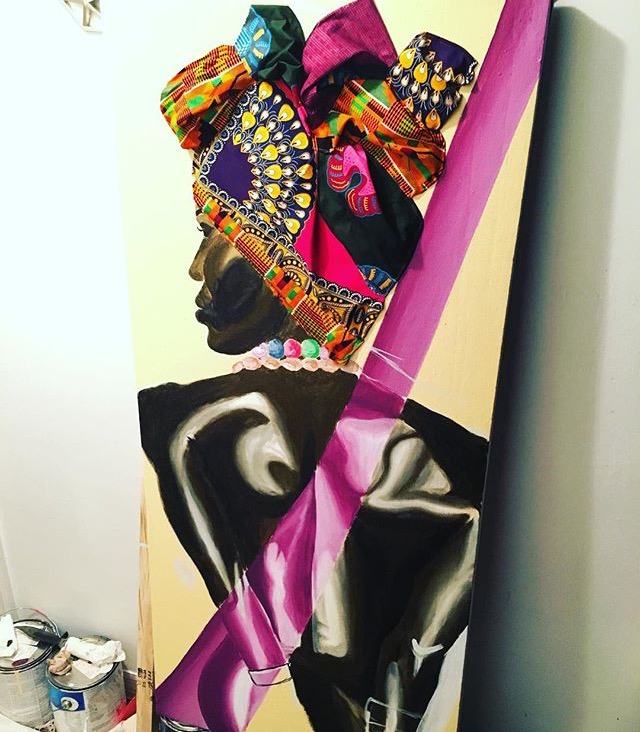 Ladies, meet Dorvilier Olivier. This guy is one of the most talented visual artists on IG and definitely in the real world too! We show love to women of course but we have to show as much love to the La Bella men who are out here doing their thang! Dorvilier is one of those men!
Dorvilier Olivier is a contemporary artist based out of Fort Lauderdale, FL. Originally from Brooklyn, NY and comes from a mixed Haitian and Puerto Rican culture. He started painting in 2010 and took the leap to become a full-time artist in fall 2016. He intended to design logos and designs for a clothing line but fell in love with abstract art and ran with it!
He created the 'Chocolate&Gold' collection in the summer of 2015 and after this collection, he created a series of paintings of beautiful black women from all cultures, honoring the La Bella Morenita woman.
Below are some of the La Bella Morenita he's painted in his black women series.
Today Dorvilier focuses to fully complete his 'Enlightened By A Muse' collection and even travels to different cities to photograph his muses himself. Not only is the man talented, he is committed to his art and the fruition of his goals and talents. So inspiring!
He will continue to put out plenty of artwork, videos, and events coming up in the future including an Art, Yoga, & Fitness Retreat hosted in Haiti. Make sure you check out his YouTube channel 'INSPR. TV'; it features different videos based around his art. You can follow his work, journey, and movement on Instagram: @INSPR.Art and Facebook: Dorvilier Olivier.
One Comment to "Insprd by His Art"