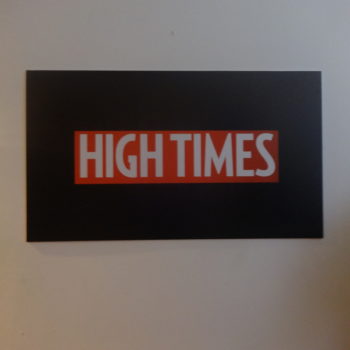 The good people over at High Times invited me to Proposition HT2016 a celebration of the launch of High Times Headwear. The had music, food, and drinks. I loved the vibe of the event very laid back making it easy to network. When you add in liquor and food with good music how can you go wrong ?! I was surprised to see my friend Robbieo at the event turns out his company PowerHouse catered all the food. The coconut shrimp was amazing.
The servers were amazing the made sure that they keep the food coming.
The gifting suite High Times made 420 bags (lol). The gift bag consisted of a Hat, a t-shirt and one issues of High Times Magazine. Also there was a terrace overlooking great view of New Jersey that red light is the W hotel in New Jersey. it was pouring raining that night but that did not stop people from participating in the activities outside as well. All the spots on the photo are from the rain. My hair was already on its last leg so I wore my hat from my friend Rene Manitlla who makes customs hats made in Columbia and Ecuador. It was such a clutch move because it protected my hair and was fashionable especially on a nasty night.
There was a company called Go Flip Yourself was there to provide guest with a souvenir flip book that turns pictures taken into a moving flip book. which is really dope. I am thinking of working with them on some of my events. Very personable and professional people, I highly recommend them. To the right are yummy Cinnamon TOast Crunch treats that were amazing. That is my favorite cereal of all time!!!
Lee and La Bella Morenita founder Pana at the High times event, Lee performed a couple of songs he is a hip hop infused R&B singer I like his music. Check out his instagram page @Leonwilkie. Overall I must say the event was truly successful. I saw old friends I have not seen in years great opportunity to catch up. Not only that it was perfect for networking and meeting new potential business connections and friends. I decided to show up make up free and just enjoy the atomshpere. Love your skin give it a break from make up you are beautiful just the way you are.
Ciao Bellas,
Pana