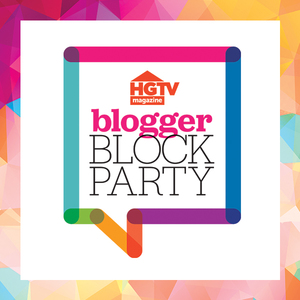 Monday I had the pleasure of attending Hgtv's #bloggerblockparty. I be honest I was quite skeptical on attending because there has been a heatwave in NYC, and standing outside with no effort will cause sweat to drip down your face. I decided I should go regardless (how many times are you going to be invited to an HGTV event seriously lol). Boy oh boy I am ecstatic I that went. It was in an event space for starters (thank god for ac) and they were friendly greeters at the door to check you in seamlessly and offer you goodies. I was so excited to meet the Handsome Jason Cameron a contractor from HGTV he was so nice and personable asked me questions he even remembered my name later on. He also gave helpful tips to attendees. I also got his autograph because let's face it with a spirit like that he is bound to go to extraordinary places. My first stop at the block party was the Chinet 1 Min Table Setting Challenge. Where you had to set a table in one min and the best table would in a prize after you published your table on social media using hashtags (great way to market and publize the event btw). It was really fun the girls that worked that station rocked!
After that I walked around saw a demontration then went to upstairs to check out the DIY set up and the spin wheel challenge sponsored by Snuggle

The Snuggle challenge was interesting you had to guess what flower it landed on for a cute prize. I one a little blue back pack, and snuggle bear both for Champagne (my maltipoo). He loves the bear I will post him with it in the part 2 of this post. The DIY section was people revamping items like in the show Flea Market Flip. I really love that show sometimes they make really cool items. There is was so many cool thigs to do I can not fit it into one post. Stay tuned for part 2 and more fun pics.
Ciao bellas,
Pana