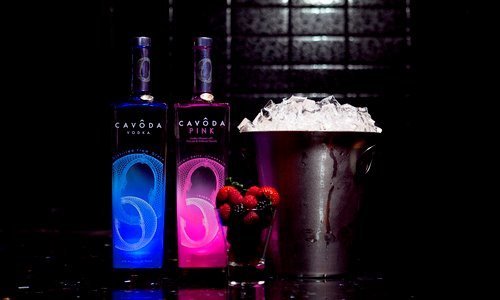 Cavoda Pink
Cavoda Vodka
My own drink called

Pana Pink

made with

Cavoda Pink
I had the pleasure of tasting a new brand of vodka called
Cavoda Vodka
.
Cavoda Vodka
was started by
Christopher Limauro, Milan Schwartz & Jack Vincent
.
Cavoda Pink
is a mix of strawberry, raspberry, nordic berry, & pomegranate it delicately ignites the taste buds with a spark of unique flavor.
Cavoda Vodka
brings a provocative taste and finesse to even the most sophisticated palette. I have tired cavoda pink in a couple of different cocktails and I have enjoyed every combo, not only is it sweet and has an alluring bottle which lights up and it is smooth in taste which is a major plus because I am NOT a big drinker. Check out some info on
Cavoda Vodka
:
" Accent your style and swagger with the most charismatic vodka on the scene. Innovation that was born in France and inspired by the elite nightlife in the trendiest cities in the United States, Cavoda Vodka is the vodka equivalent to luxury and the pulse of pop-culture. Cavoda is an exquisite fusion of past and future, a symphony of innovative design and timelessness. Cavoda's allure is not only in it's provocative design, but also in it's impeccably smooth, sophisticated taste. It is the
World's First Illuminating Bottle of Ultra Premium Vodka
that assures it's clientele will be highlighted amoungst any crowd. "
I will be hosting a girls night and other events featuring
Cavoda Vodka
so make sure you email me your email address so you can be apart of this movement. Grab some let me know if you liked it or not.
Follow on :
Twitter : @Cavodavodka
Facebook : Cavodavodka
www.CavodaVodka.com
If you are interested in buying Cavoda Vodka please email me or call Lucky @ 323-252-4585 for more information.
Ciao,
Pana
2 Comments to "Cavoda Vodka"
Leave a Reply
Your email address will not be published.