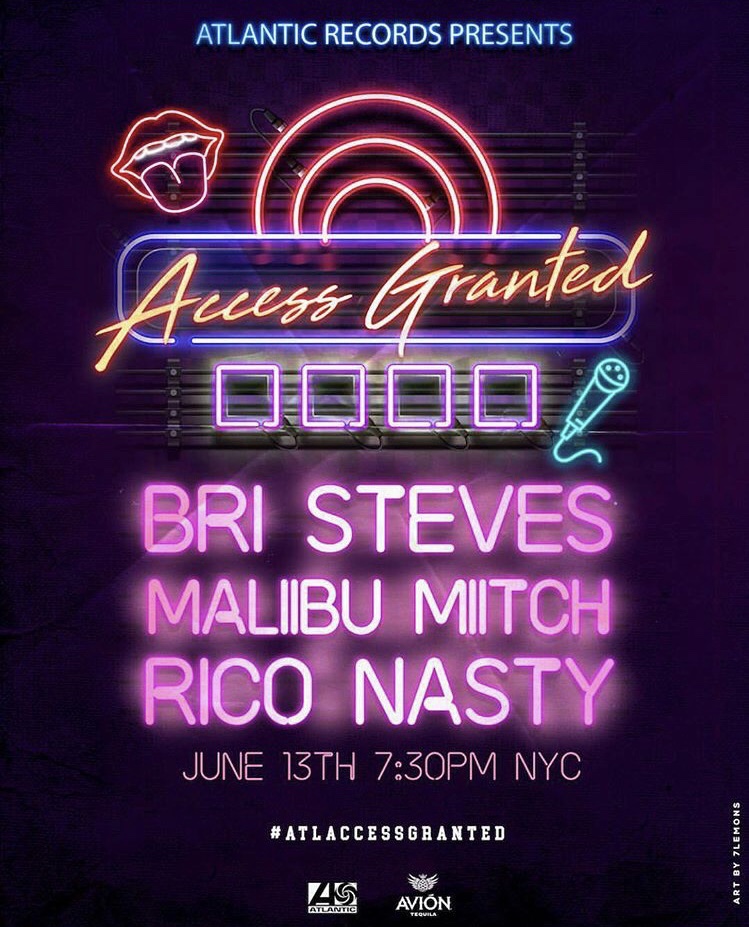 Atlantic Records gave fans a rare opportunity to support up and coming female hip-hop artists Bri Steves, Maliibu Miitch, and Rico Nasty at an "Access Granted" showcase in Downtown New York.
Hosted by Gia Peppers and sponsored by Avion, fans lucky enough to attend the event were welcomed with an open bar, a photo booth, and a chance to witness rising female artists in the flesh.
Keeping guests entertained and energized from the moment they walked in were well-known Dj's Odayls and Diamond Kuts. Odayls is a New York DJ who has been featured in Vogue magazine and worked with artists like Lil Yatchy and The Weeknd. Diamond, from Philadelphia, is most known for her mixes and her work with Nicki Minaj.
Opening the show was Bri Steves, also a Philly native whose latest song "Jealousy" is something we all can relate to. Her #BriMix to Drake's "Nice for What" and A$AP Ferg's "Plain Jane" gives you just a taste of why this female rapper is next up. Her genuine personality was felt even on stage, which gave the audience more of a reason to appreciate her talent. Her ability to switch from rap to singing makes her unique and able to connect with any crowd or vibe. Keep up with Bri's latest moves on Instagram and Twitter, and keep an eye out for her new music dropping here.
Following Bri Steves was the Bronx very own Maliibu Miitch. While her voice may be sweet and innocent, her song "The Count" lets you know she's not to be played with. Her raw sound takes you back to hip-hop in the 90s. Her latest hit song "Give her some money" had the crowd singing and dancing along, men included. Watch out for Maliibu Miitch and be sure to follow her on Instagram and Twitter to get a feel for her personality and music.
The final act of the night was Rico Nasty, also found on the cover of the latest issue of the Fader. This DMV artist has built a fan base and gained support from many other artists in their prime. Rico Nasty's style and sound is creative, fun, girly, yet hip-hop. Some of her hit songs have been remixed by people like Lil Yatchy ("Hey Arnold"). Her hit song "Poppin'" was also featured on the soundtrack of HBO's Insecure. Her newest album just dropped with features from Blocboy JB and Lil Gnar. Are you a Rico Nasty fan? Catch her on tour this summer in a city near you. Join the Nasty Mob and follow Rico Nasty on Instagram and Twitter.
From female artsits, dj's, and hosts, the night was filled with positive energy and an occasional "eowwww" from all the women in the room. All three of these artists have an addicting sound and energy and a stage presence that makes you want to root for their success. Be sure to keep up with these artists and support these women following their dreams!