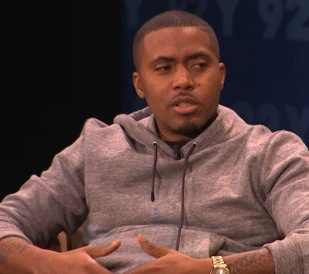 He is ranked as one of the most influential rappers in history. A political firebrand, a poet, a father and a tongue twisting genius but in a recent interview I was lucky to sit in with A. DeCurtis and learn some things outside of the obvious public and structured pre thought responses given by such a talent. The interview gave Nas a platform to emphasize the authenticity of Life Is Good. He mostly reiterated the "stay true to yourself" mantra as per usual. Nas appeared open and honest, especially when discussing the lack of belonging he feels when visiting both childhood friends in his old Queens neighborhood and industry contacts in Hollywood. The evening felt like a late night television interview. He touched for some time about his relationship with Amy Winehouse, his spiritual thoughts and his feelings about being some what public about his family through music and how it has effected his relationship directly with those involved.
I was surronded by die hard Nas fans, hip hop enthusiast and serious bloggers. Don't get me wrong I enjoy his music, respect his talent enough to buy his music legally but some of the things he touched on I wasn't familiar with ie; his favorite songs he has written: Black Zombies and Star Wars but nonetheless I still felt intrigued because he spoke about these things with passion and great wittiness. It wasn't so much the blatant answers he gave but the story to reaching to those repsonses. He said "I'm notoriously known for choosing bad beats so in turn I don't make many "hits" but thats not what drives me" Its lyrical content. I'm no rap savant but its pretty obvious Nas' first work much like many influential still popular artist have no format or structure in songs. The rhymes go on and on with no real breaks, loops or chorus. I can respect that. The art within the craft is admirable.
I didn't focus on the Grammy talk, the "Daughters" process, the feelings of divorce, the controversy behind his child support issues or his environment growing up and still managing to become the provider and talent he is today. Everyone has a story. Most are interesting, intriguing and inspiring. Regardless of the scale of pain and ambition, what I took from the interview and what I mostly intake from getting to know anyone for that matter is how all those hurdles, obstacles and great succession one receives physically they can still keep a balance within themselves and remain humble. Also in this specific instance I paid close attention to his enthusiasm when speaking of his craft.
It is common for a fan to lose interest after seeing their inspiration on television, interviews or in their comfort zone but Nas gained one with me. A true intellect, witty and I see the growth from Kid Wave to Nas and thats whats truly inspiring, GROWTH.
"Rule No. 1 is you can't be fake. If you're fake, you become a gimmick and you're selling a gimmick; a little gimmick is cool, this is entertainment. But when you base your stuff on mostly real stuff, you never run out of it because every day is a different adventure." – Nas
Leave a Reply
Your email address will not be published.